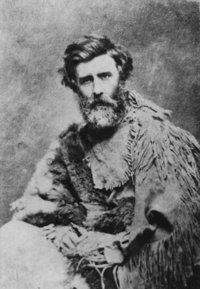 (Image from Wikimedia Commons)
KANE, Paul (1810 - 1871)
Areas of Expertise
Painting, landscapes, portraiture
Biography
Paul Kane (1810-1871) was an Irish-born, and largely self-taught, artist who resolved early to make a lasting record of North American [Indigenous peoples] and their traditional way of life. The central event of his career was a journey of two-and-half years through the wilderness, from the Great Lakes, through the Red River settlement (where he saw and painted one of the last great buffalo hunts), the Rockies, and into the Pacific Northwest.
But to gain the cooperation of the Hudson's Bay Company, which essentially governed what is now Canada west of the Great Lakes, he had to first establish himself as a fit traveller. That meant Kane had to show Hudson's Bay governor George Simpson that he could keep up with the company voyageurs on the first legs of the fur route into the northwest. Kane did better than pass the test -- he not only gained the protection of the company, but by the end of his adventures was leading one of its daunting winter expeditions.
All along Kane's great trip he made sketches and watercolours whenever he could: landscapes, pictures of forts and towns, and most importantly, portraits of the natives he met -- portraits that gained him a reputation as a medicine man. Most of his later career was to consist of working up striking paintings based on those field sketches and on the native artifacts he gathered on the trip. In this later work Kane was unable to resist bending the images he had captured on his travels to fit the classical tastes of the time, but his field work had unusual freshness and accuracy.
Kane also kept a journal of his travels, and later wrote them up (with some help and embellishment) as Wanderings of an Artist among the Indians of North America..., a classic of Canadian travel writing (and a best-seller in its time). In both the sketches and journal, Kane fulfilled his goal of making an important historical and anthropological record of ways of life that were already starting to disappear.
The originals of Kane's paintings are in Ottawa (National Gallery of Canada Collection), Toronto (Royal Ontario Museum), and Orange, Texas (Stark Museum), but his collection of Indian artifacts is in the Manitoba Museum in Winnipeg.
© Above biography by T.S. Causabon via University of Manitoba CM Magazine website and Manitoba Historical Society